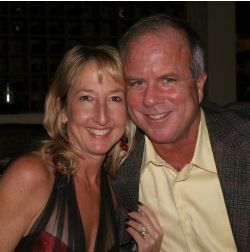 Charles Crook
After attending Berry College in Rome, Georgia, Charles began his professional career just like many young college grads do; he took the first paying job he could find. From purchasing agent, to computer sales, to real estate broker and home builder, he finally found his calling in the funeral business. He worked with Aurora Casket Company in Kentucky before heading back home to Atlanta to enroll in Gupton Jones College of Funeral Service. After completing his studies and passing the national boards Charles moved to Greenville, South Carolina. There he worked at Mackey Funeral Home as an embalmer and funeral director. Once Charles completed his apprenticeship he found an opportunity to purchase Saint Francis Pet Crematory. With the help of two partners he purchased the business and ran it for two years. Charles started Good Shepherd in 1998.
Charles married his college sweetheart, Stephanie. They have two children; CT who recently graduated from Clemson University with a degree in Mechanical Engineering, and Allie who is currently attending college at Tri County Tech in Pendelton.
Other than work, Charles loves to spend time on the lake with family and friends. He is currently working on his instrument rating private pilot license and hopes to fly through the cloud instead of flying around them real soon. Charles and Stephanie completed a trip of a lifetime where they both completed the marathon in Athens Greece in 2010. Charles and Stephanie recently moved to Lake Keowee, where Charles joined the Seneca Rotary Club.
Charles and Stephanie have embarked on their latest challenge; complete the Great Loop. This is a trip by boat that circles the east coast to Canada, through the Great Lakes, down the Mississippi, around Florida and back to Charleston where they departed on April 7th 2013. If you are interested in their journey you can check out their blog @ Admiral Stephanie and Captain Crook.